Bringing colour to Cologne: main sponsor AkzoNobel very satisfied with impact of CityLeaks Urban Art Festival
Cologne, September, 2017 - With colourful murals and some thought-provoking ideas about civic space and urban art, the CityLeaks Urban Art Festival 2017 brought variety and vitality to Cologne. From 1 to 24 September 2017, Europe's biggest street art event was once again very well attended.
AkzoNobel has supported CityLeaks since it started, as part of its global Human Cities initiative for cities that are more human and more liveable. As in previous years, the company again provided artists with high-quality paints from its Dulux, Sikkens and Herbol brands, as well as technical application advice. This year's edition of the festival will be hosted under the slogan "Sharing Cities" and will be held at and in the vicinity of Ebertplatz Square in Altstadt-Nord, the northern district of mediaeval Cologne.
"The people who live in our cities want an environment that is colourful and inspiring," says Marco Sicconi, General Manager AkzoNobel Decorative Paints Deutschland. "Urban art festivals such as CityLeaks really bring this into focus: they show how colours and artworks can enrich public spaces and bring people together. And that's exactly the kind of approach that we want to promote with our Human Cities Initiative," Sicconi concludes.
As a result, the company is very pleased to once again be the main sponsor this year for both local and international artists, and the remarkable work of festival organiser's artrmx e.V.
Mural of the artist duo Interesni Kazki in Cologne-Ehrenfeld; picture source: Robert Winter
A festival of colours
CityLeaks is a festival of colours: for the various art projects, a total of 800 litres of paint were used for this year's festival alone. And 600 square metres of wall space have been turned into the canvas for four new large-scale urban murals. They liven up drab corners and set vibrant accents in the urban landscape. The focus in 2017 was on the northern city centre area around Ebertplatz. This was also the location for the Festival HQ. Since the inaugural CityLeaks in 2011, 63 murals have now been created in Cologne. Although the owners of the buildings are entirely free to remove the murals after a certain minimum period, only four owners have actually done so. And thanks to the high-quality exterior paints from AkzoNobel, the artworks that have been left in place will continue to bring colour and life to the cityscape for a long time to come.
Street art in dialogue
Alongside the murals, exhibitions, installations and performance, lively discussion sessions and interactive events all helped to make CityLeaks a success. One highlight of the event was the creation of a street art gallery consisting of three murals at Clevischer Ring in Cologne's Mülheim district. Existing abstract murals by renowned urban artists HENSE and CHU were supplemented by a third, stylistically similar mural by artist Elian Chali – an event that's rarely seen anywhere in the world.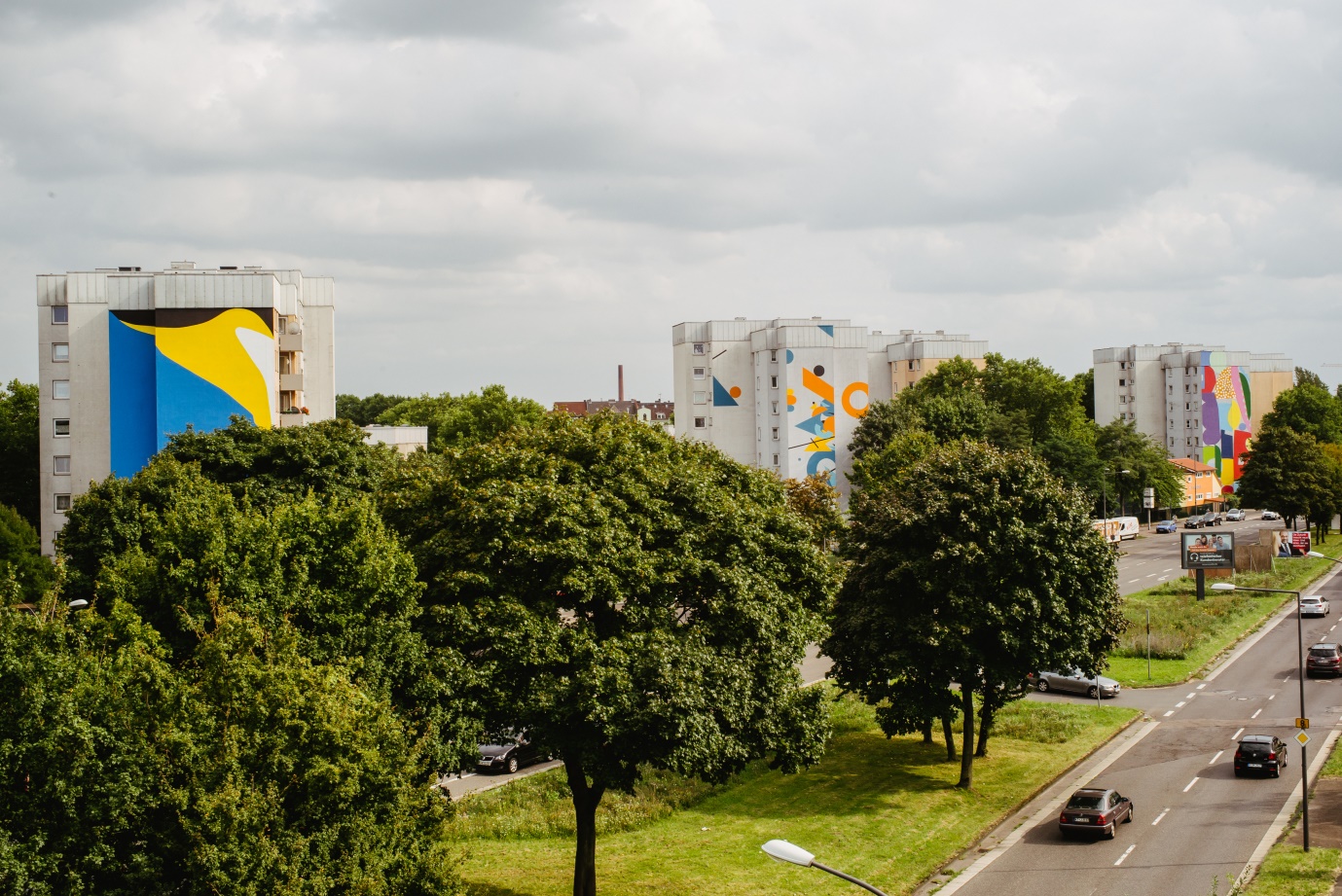 Mural of the artist Elian Chali; picture source: Robert Winter
Other highlights of the varied programme included a panel discussion on the topic of 'Sharing Cities – Space as an Urban Commons", which looked at urban space as a shared resource – and in which Marco Sicconi also participated – and the Turbo Parade at the close of the festival: a rally for a car-free city with an artistically inspired Bobby Car in SUV format.
Panel discussion on the topic of 'Sharing Cities – Space as an Urban Commons