Akzo Nobel N.V. (AKZA; AKZOY) publishes results for first quarter 2022 
Highlights Grow & Deliver (compared with Q1 2021)
•Revenue up 12% and 10% higher in constant currencies1, driven by strong pricing (up 17%)
•ROS2 at 9.1% (2021: 13.6%), resulting from continued raw material and freight costs inflation and supply constraints
•Adjusted EBITDA at €317 million (2021: €391 million) 
 
Highlights Q1 2022 (compared with Q1 2021) 
•Pricing initiatives more than offset the increase of raw material and other variable costs (including freight), which combined increased €334 million compared with Q1 2021. Volumes 7% lower
•Operating income at €232 million (2021: €303 million), includes €2 million net positive impact from identified items (2021: €4 million net negative impact). OPI margin 9.2% (2021: 13.4%)
•Adjusted operating income3 at €230 million (2021: €307 million)
•Net cash from operating activities decreased to negative €102 million (2021: negative €31 million)
•Net income attributable to shareholders at €154 million (2021: €217 million)
•EPS from total operations at €0.87 (2021: €1.15); adjusted EPS from continuing operations at €0.86(2021: €1.18) 
AkzoNobel CEO, Thierry Vanlancker, commented:
"We continued to make good progress, with strong revenue growth in both paints and coatings in the first quarter. Through our vigorous pricing initiatives, we are in line with the unprecedented variable cost inflation that impacted our industry during the quarter.

"I'm very proud of our organization, and our first quarter results are proof of the ongoing hard work and commitment of all our employees.

"Although uncertainties remain with regard to amongst others the sanctions on Russia, the COVID-19 resurgence in China and continued supply constraints – especially in North America – we remain confident in realizing our Grow & Deliver strategy."
Recent highlights
Cetol products used on eye-catching museum
Sustainable technology and responsible architecture blend beautifully in this visually stunning museum, which recently opened in Uruguay. Inspired by the shape of an ark and constructed from wood, the futuristic Atchugarry Museum of Contemporary Art (MACA) is surrounded by 40 hectares of greenery. Our Cetol woodcare brand supplied more than 1,000 liters of products for both the interior and exterior, which help to protect the impressive structure. The eye-catching museum is regarded as a prime example of how wood can be used for architectural purposes and not just for decorative applications. 
Sustainability ratings reflect People. Planet. Paint. commitment
We're extremely proud to have been awarded Platinum status by EcoVadis – a leading provider of business sustainability ratings. It's the eighth year in a row we've received their highest rating. A key contributing factor was our ambitious science-based sustainability target of halving our carbon footprint across the full value chain by 2030. It follows on from Sustainalytics awarding us our best-ever rating, with our sustainable portfolio, carbon program and reduction in waste and hazardous substance use among the highlighted strengths. Both of these ratings reflect our commitment to ensuring that everything we do starts with People. Planet. Paint.
Paint the Future winners sign letters of intent
Three startups have signed letters of intent to continue working together on sustainable business opportunities with AkzoNobel following our latest global Paint the Future startup challenge. SolCold from Israel, Aerones from Latvia and SprayVision from the Czech Republic received their awards following an intense three-day bootcamp at our head office in Amsterdam, the Netherlands.
In-house production of resins being scaled-up 
We're investing in the expansion of in-house resin manufacturing as part of the company's Grow & Deliver strategy. The scale-up program, which is already underway, will help build resilience against supply disruptions while making an important contribution to achieving our financial and Scope 3 (upstream) carbon reduction ambitions. 
Taking a quantum leap to fast track innovation
We've teamed up with Microsoft to explore how quantum computing could help fast track the development of more sustainable paints and coatings. Scientists from both parties will use Microsoft's powerful Azure Quantum ecosystem to co-develop what will effectively be a virtual laboratory. The aim is to conduct experiments using quantum chemistry, which is capable of performing multiple complex processes with lightning quick speed and efficiency. 
Outlook:
AkzoNobel targets to grow at or above its relevant markets, in line with the company's Grow & Deliver strategy. Trends differ per region and segment, with raw material and other cost inflation (including freight) expected to gradually ease during the second half of 2022. AkzoNobel aims to continue to offset raw material and other variable cost inflation (including freight) through pricing initiatives. Market uncertainties have increased due to the sanctions on Russia and the resurgence of COVID-19 in China, among others. Assuming there are no further significant market disruptions, AkzoNobel aims to deliver the €2 billion adjusted EBITDA target for 2023, and an average annual 50 basis points increase in return on sales over the period 2021-2023. AkzoNobel targets a leverage ratio of 1-2 times net debt/EBITDA and is committed to retaining a strong investment grade credit rating.
The report for the first quarter can be viewed and downloaded https://akzo.no/results-q12022
---
1 Constant currencies calculations exclude the impact of changes in foreign exchange rates
2 Return on sales (ROS) is adjusted operating income as percentage of revenue
3 Adjusted operating income = operating income excluding identified items
This media release covers the highlights for the quarter. We recommend reading the media release in combination with the full quarterly report. The quarterly report provides additional information, including the IAS34 condensed consolidated financial statements. ROS, adjusted OPI and adjusted EPS are Alternative Performance Measures (APM's). AkzoNobel uses APM adjustments to the IFRS measures to provide supplementary information on the reporting of the underlying developments of the business. A reconciliation of the alternative performance measures to the most directly comparable IFRS measures can be found in the AkzoNobel quarterly report.
All figures in the media release and in the AkzoNobel quarterly report are unaudited. The interim condensed consolidated financial statements were discussed and approved by the Board of Management and the Supervisory Board. These condensed financial statements have been authorized for issue.
This is a public announcement by Akzo Nobel N.V. pursuant to section 17 paragraph 1 of the European Market Abuse Regulation (596/2014).
---

About AkzoNobel
We supply the sustainable and innovative paints and coatings that our customers, communities – and the environment – are increasingly relying on. That's why everything we do starts with People. Planet. Paint. Our world class portfolio of brands – including Dulux, International, Sikkens and Interpon – is trusted by customers around the globe. We're active in more than 150 countries and have set our sights on becoming the global industry leader. It's what you'd expect from a pioneering paints company that's committed to science-based targets and is taking genuine action to address globally relevant challenges and protect future generations.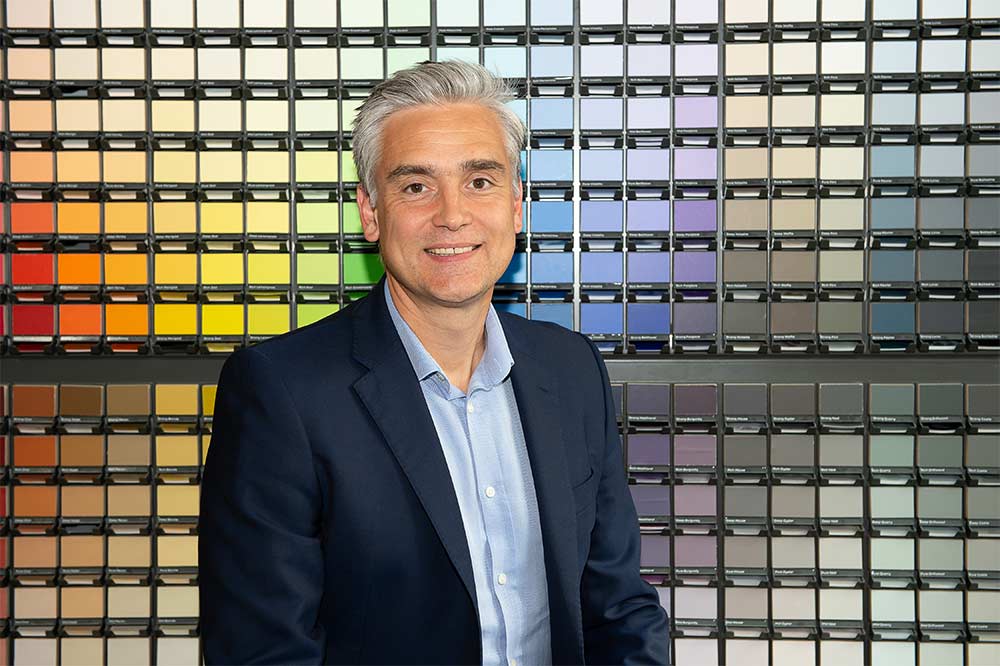 Simon Colvan, Regional Communications Manager - UK & Ireland
Fetching the data, plz wait..