(AKZA; AKZOY)
Bodyshops can now take advantage of the vehicle refinish industry's first repair calculator to measure, manage and reduce carbon emissions, which has been developed by AkzoNobel.
Designed to help customers improve their carbon footprint when using the company's premium refinish products, the CO2eRepairCalculator* is part of a new initiative which aims to encourage bodyshops to become more sustainable.
The tool is the latest digital innovation from AkzoNobel focused on making a long-lasting difference to customers. It identifies the carbon levels associated with the painting and drying process – including the energy consumed – and is linked directly to the vehicle refinishing products being used. It also provides data relating to the emission of volatile organic compounds (VOCs), therefore helping customers to understand where improvements can be made.
"We're very proud to have introduced another industry first, which is a great example of how we're driving sustainability beyond our own operations," says Patrick Bourguignon, Managing Director of AkzoNobel's Automotive and Specialty Coatings business. "The company has set a science-based sustainability target to halve its carbon emissions across the full value chain by 2030. Achieving that ambition will rely heavily on collaborating with partners and challenging each other to find innovative ways to overcome the unprecedented challenges everyone faces."
When using the tool, the emissions and energy consumed are calculated based on a controlled two-panel repair in a spray booth to Greenhouse Gas Protocol accounting standards. The results are presented in an online dashboard, which allows local energy prices to be factored in.
"The CO2eRepairCalculator shows bodyshops how changes in the products they use and the processes they follow can have a direct impact on reducing carbon emissions and energy costs, as well as improving their productivity," adds Georgia Collins, Commercial Marketing Director of AkzoNobel's Automotive and Specialty Coatings business.
"The tool is part of our global initiative for bodyshops to 'rethink' sustainability throughout the entire refinishing journey. By showing actual figures, we'll increase customer awareness and support them on their journey towards becoming a more sustainable business."
The launch means it will now be easier for bodyshops to take positive action in an effort to meet their sustainability and carbon reduction targets. This is becoming increasingly important, as insurance companies are putting greater pressure on preferred bodyshop partners to cut their emissions in line with supply chain ambitions that meet the UN Sustainable Development Goals.
The CO2eRepairCalculator is currently being introduced in the UK market to Sikkens customers (with Lesonal to follow shortly). It will be rolled out across markets in Europe during the next few months. For more information, visit www.Sikkensvr.com/rethink 
*CO2e stands for carbon dioxide and equivalent gases. The tool measures carbon dioxide (CO2) and equivalent gases​ such as methane (CH4) and nitrous oxide (N2O), which all fall under the term greenhouse gases (GHGs).
---
About AkzoNobel
We supply the sustainable and innovative paints and coatings that our customers, communities – and the environment – are increasingly relying on. That's why everything we do starts with People. Planet. Paint. Our world class portfolio of brands – including Dulux, International, Sikkens and Interpon – is trusted by customers around the globe. We're active in more than 150 countries and have set our sights on becoming the global industry leader. It's what you'd expect from a pioneering paints company that's committed to science-based targets and is taking genuine action to address globally relevant challenges and protect future generations.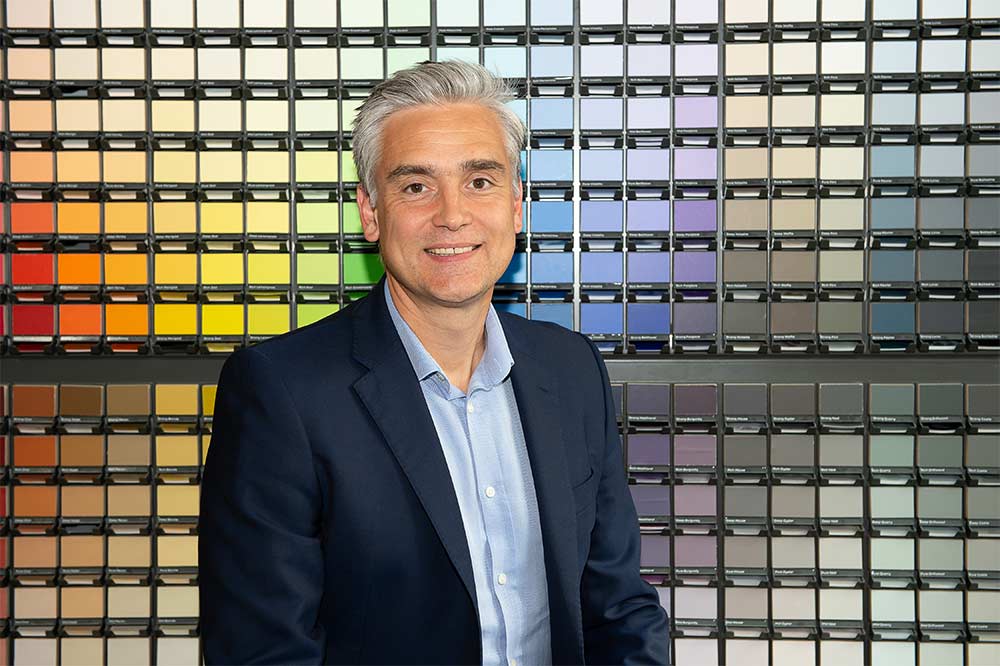 Simon Colvan, Regional Communications Manager - UK & Ireland
Fetching the data, plz wait..