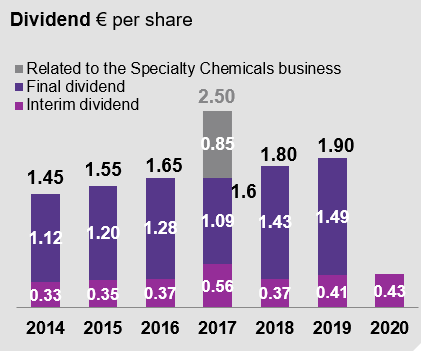 Interim Dividend 2020
The Board of Management of Akzo Novel N.V. announces that the interim dividend of EUR 0.43 per ordinary share of EUR 0.50 nominal value. Will be payable as of 5 November 2020, after deduction of 15% dividend withholding tax.
The following time table is applicable for payment of the dividend:
23 October 2020: trading ex-dividend
26 October 2020: record date
5 November 2020: Payment of Cash dividend
Holders of ordinary shares will receive the dividend through their bank or broker in whose custody the shares are held on 26 October 2020 at the close of business (record date).
Paying agent is ABN AMRO Bank N.V. in Amsterdam.

Amsterdam, 21 October 2020
Akzo Nobel N.V.
| Financial year | Interim | Ex div date | Date paid | Final | Ex div date | Date paid | Total |
| --- | --- | --- | --- | --- | --- | --- | --- |
| 2020 | 0.43 | Oct 23, 2020 | Nov 5, 2020 | - | - | - | - |
| 2019 | 0.41 | Oct 25, 2019 | Nov 6, 2019 | 1.49 | April 27, 2020 | May 7, 2020 | 1.49 |
| 2018 | 0.37 | Oct 19, 2018 | Oct 26, 2018 | 1.43 | Apr 29, 2019 | May 6, 2019 | 1.80 |
| 2017 | 0.56 | Oct 20, 2017 | Nov 22, 2017 | 1.94 | April 30, 2018 | May 25, 2018 | 2.50 |
| 2016 | 0.37 | Oct 21, 2016 | Nov 23, 2016 | 1.28 | April 27, 2017 | May 24, 2017 | 1.65 |
| 2015 | 0.35 | Oct 26, 2015 | Nov 26, 2015 | 1.20 | April 22, 2016 | May 19, 2016 | 1.55 |
| 2014 | 0.33 | Oct 23, 2014 | Nov 25, 2014 | 1.12 | April 24, 2015 | May 19, 2015 | 1.45 |
| 2013 | 0.33 | Oct 23, 2013 | Nov 26, 2013 | 1.12 | May 2, 2014 | May 28, 2014 | 1.45 |
| 2012 | 0.33 | Oct 22, 2012 | Nov 23, 2012 | 1.12 | April 30, 2013 | May 29, 2013 | 1.45 |
| 2011 | 0.33 | Oct 24, 2011 | Nov 24, 2011 | 1.12 | April 25, 2012 | May 24, 2012 | 1.45 |
| 2010 | 0.32 | Oct 25, 2010 | Nov 03, 2010 | 1.08 | April 29, 2011 | May 10, 2011 | 1.40 |
| 2009 | 0.30 | Oct 28, 2009 | Nov 06, 2009 | 1.05 | April 30, 2010 | May 11, 2010 | 1.35 |